New Aberlea Inc. chief executive officer David Knight enjoys a quick game of bingo with residents this week.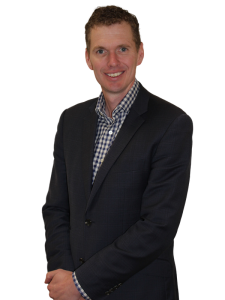 Whether it's playing bingo with the residents or preparing an annual budget, new Aberlea Inc. chief executive officer (CEO) David Knight has always loved numbers.
Mr Knight is a Certified Practicing Accountant (CPA), holds a Master of Business Administration (MBA) and has extensive experience in the healthcare industry.
He said he was excited to be CEO of Aberlea and was committed to making sure it continued to be a wonderful place for residents to live and for staff to work.
"First and foremost, Aberlea is here for locals so that older members of the community can stay in their community. That's really important in Mortlake and Timboon," he said.
"I'm acutely aware how much work and fundraising has been done by the communities so that these wonderful facilities and services are here for a long, long time.
"Aberlea is a very well run organisation and I'm grateful that there was an opportunity for me to join the team and help guide it into the future."
Mr Knight said the recent Royal Commission into aged care had not painted the industry in the best light and that presented some challenges for all providers.
"I think the Aberlea staff and the Board have done an excellent job to position the organisation as best as possible for those challenges," he said.
"Unfortunately the focus, reputationally for the industry, hasn't been on the extremely high quality of care that providers like Aberlea deliver with tight budgets, but rather on the minority that certainly didn't get things right.
"In that light, I think the industry has a challenge attracting staff, for example. Ultimately, providers like Aberlea that have their stakeholders aligned will be in the best position to prosper.
"It will be important also to build supplementary income streams that leverage the core products of residential aged care and independent living housing."
Mr Knight completed his secondary education in Essendon, before gaining his Accounting Degree at Victoria University.
Since then he has filled senior financial roles with various accounting firms and also within a number of listed companies.
He has worked within the health, seniors living and aged care industry in several roles including for the Royal Melbourne Hospital, Western District Health Services, Eventide Lutheran Homes, the Royal Freemasons and Lyndoch Living where he was the chief operations officer, before joining Leading Healthcare.
Board chairman Mick Murphy OAM said Mr Knight's experience, especially with multi-site aged care organisations, was a real boon for Mortlake and Timboon.
"David is a fantastic appointment for us. To have a CPA in the top job is a great investment in the long-term future of any organisation and to find one who has such extensive experience in aged care is a win-win," he said.
"We are delighted to have him onboard and we look forward to working together to build even further on our proud history and first-class quality of care reputation."